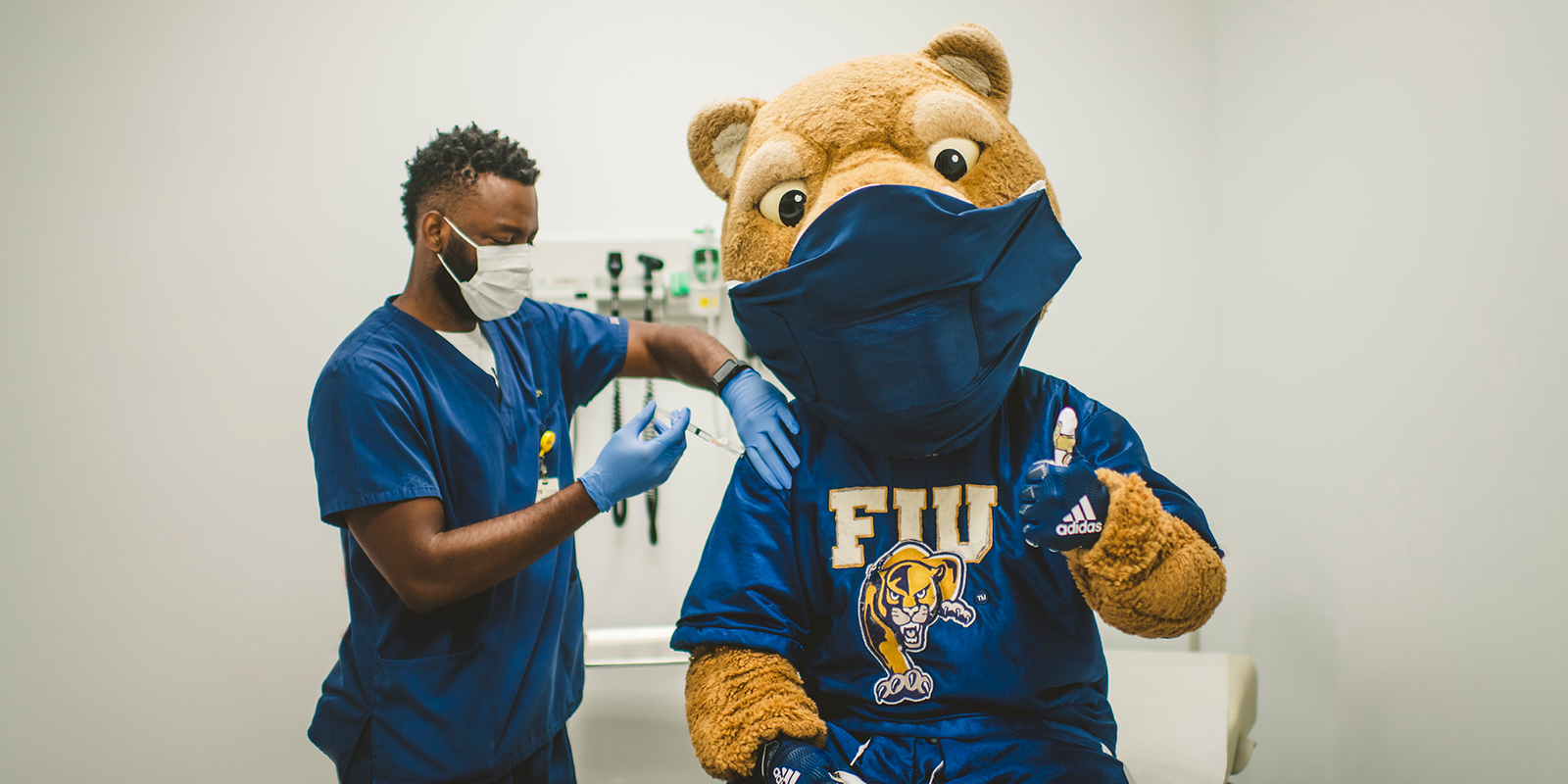 Vaccination guidance for international students
FIU does not require any students or employees to get a COVID-19 vaccination, although we highly recommend it for your own benefit. While evidence shows that people who are vaccinated can get COVID-19, their symptoms are usually milder. If you are unvaccinated, you are assuming a significant risk to your health. 
Following the guidance of Governor Ron DeSantis and the Florida Board of Governors, this fall classes will be back on campus with no remote option and no physical distancing in our classrooms. There are no plans to modify the operations of the university to accommodate individuals who choose not to get vaccinated.
What follows is guidance for unvaccinated students who wish to get vaccinated, partially vaccinated students, and students who will work in healthcare facilities where vaccinations are mandatory:
In general, we urge students and faculty to become fully vaccinated in their home country prior to departing to the U.S.
1) Unvaccinated Students Who Wish to Get Vaccinated
If you have not taken the vaccine yet, we urge you to do so, in order for all of us to go into Fall 2021 protected against this serious disease.
We are fortunate that vaccines are free and widely available in our community and on our campuses. Our vaccine site in the Graham Center Piano Lounge at MMC is a convenient location to get vaccinated. Additionally, beginning August 21 through October 4, vaccine vans will be stationed at both MMC and BBC offering first and second doses of the Pfizer vaccine. A van will be stationed in front of Panther Hall at MMC and in Lot 1 near Student Health at BBC from 9 a.m.-5 p.m. seven days a week.
On-campus appointments:  First doses of the Pfizer vaccine are available. Please bring a photo ID or birth certificate. Vaccine appointments are now open and will be given on a first come, first served basis to members of the university community and qualifying family members. Please register for an appointment as soon as possible using your FIU credentials. Appointments are encouraged, but walk-ins are welcome. Please note that the Pfizer vaccine requires a second shot three weeks after the first shot.
2) Partially Vaccinated Students
If you have received only the first dose of a two-shot vaccine in your home country, FIU may provide you with the second shot but only if your first dose was for the Pfizer or Moderna vaccine (see above for details on where to get this shot on campus).
FIU is not able to provide any other manufacturers of COVID-19 vaccines and cannot offer to mix your vaccination with a different type. For example, if you received an AstraZeneca vaccine abroad, FIU will not provide a second shot from another maker. For students who received the first dose by any other maker than Pfizer or Moderna, FIU will offer a complete two-shot vaccination 6 months after the original shot was given to you in your home country. 
3) Students Working in Healthcare Facilities
For the protection of patients and healthcare workers, students who will be working in clinical settings with one of our many Healthcare partners will be required to be fully vaccinated per mandates issued by these facilities and must either produce a formal vaccination record or be vaccinated once in South Florida.
At FIU, we strive to help our Panther family stay safe and healthy. Together, we can ensure everyone's well-being on campus and in our local and global community. We look forward to seeing you at FIU.